I Want Acie Law!
That is all.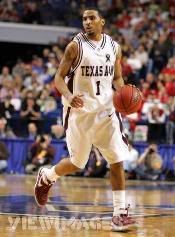 Actually, I have a little more to say on this. I know it's not that easy. From all accounts, the Texas A&M point guard won't be on the board by the time the Detroit Pistons' selection comes up at #15. ESPN.com's Chad Ford has Law
going to Atlanta
at #11 now.
Up until this week, however, it appeared that the Pistons might have a chance. Virtually every mock draft you looked at speculated that Law would be available around the 15th pick, yet likely wouldn't make it past the L.A. Clippers' selection at #14. (
Detroit Bad Boys
says that's virtually a certainty, and it's the reason Law cancelled his workout for the Pistons.)
I'd love to see Joe Dumars do everything in his power to move up the draft order and ensure the Pistons are set at point guard for the next 8-12 seasons between Chauncey Billups and Law. The idea of Billups playing out the rest of his prime in Detroit, while Law is groomed to be his successor is a vision that's given me pleasant dreams since January.
Law would give the Pistons a consistent ballhandler and perimeter scorer off the bench, something they've needed since... well, the Bad Boys years. A legitimate point guard would also allow the Pistons to play more "small ball," with Billups possibly moving over to shooting guard, Rip Hamilton to the wing, and Tayshaun Prince playing more of a Shawn Marion type of power forward.
Alas, it's very likely not going to happen. If Detroit is planning to give Billups a maximum value free agent contract, which assures he'll be the Pistons' starter for at least another five seasons, and/or they're still high on Alex Acker's potential at point guard, then it's probably in the team's best interests to seek help for a position of more immediate need. And given
the depth
that this draft reportedly provides, it looks like that's exactly what Joe Dumars and crew have in mind.
Every one of the names currently associated with the Pistons' pick - whether it's Rodney Stuckey, Nick Young, Al Thornton, or Thaddeus Young - are of the shooting guard/small forward variety. I'll have to plead ignorance on these guys, as I haven't seen any of them play (which is admittedly a reason I probably favor Law), but they certainly seem to fit that LeBron James/Dwyane Wade profile of a big, athletic perimeter scorer who can shoot, dribble drive, and defend. And that sort of athleticism is something the Pistons need to infuse their team with.
At the risk of ending with some hyperbole, does anyone else feel like this is Joe D's most important draft since he had the #2 pick in 2003? The Pistons need this guy to be a player.
Labels: 2006-07 Detroit Pistons, NBA Draft